Places to eat while in the Gardiner/Yellowstone National Park Area
Whether you're looking for a quick snack, a nice meal out or simply some groceries to use in the cabins, we're certain you'll find what you're looking for in Gardiner!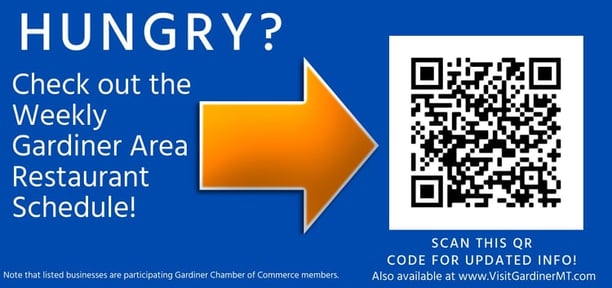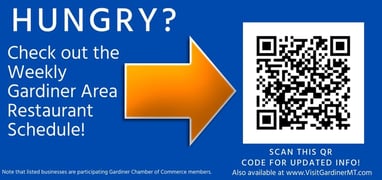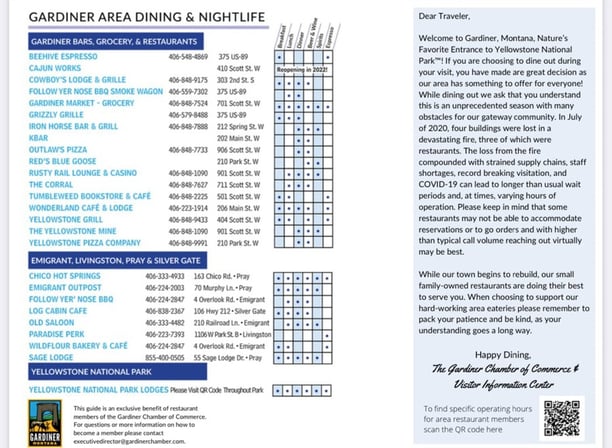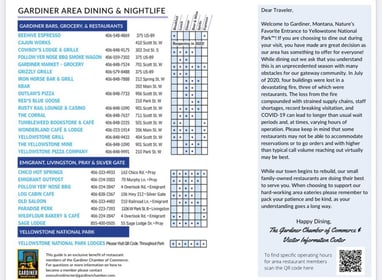 For Groceries & Supplies:
We recommend stopping in one of the larger gateway cities to obtain any groceries and supplies you may be in need of prior to your arrival. Cities such as Livingston or Bozeman and also Billings if you are coming in through the Beartooth Highway are recommended as they have a much larger selection to choose from.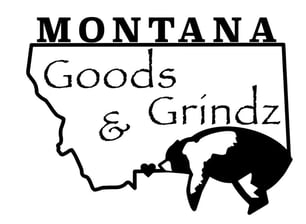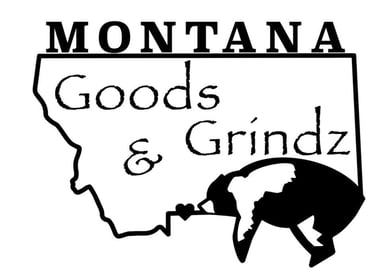 We have To Go breakfast burritos, croissant or English muffin sandwiches, biscuits & gravy!
Lunch & Dinner options- sandwiches, salads, soup of the day, grab & go lunch/dinners to include enchiladas, lasagna, chicken Alfredo, Alfredo, Shepard's pie, and whatever else I decide to make
All fruit smoothies- ice cream- shakes- malts!
Great gift items for anyone that are mostly Made in Montana items! Some local artists too!
Awesome 2nd hand items, jackets, jeans, shoes, misc. Come check us out!
404 Scott St (US Highway 89)
Gardiner, MT 59030
Phone: (406) 848-9433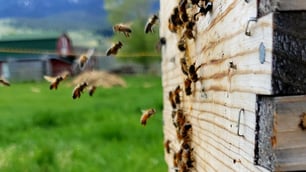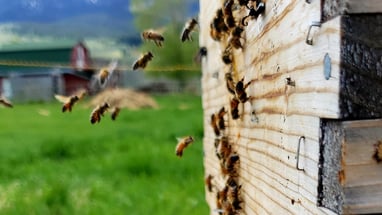 Enjoy a Day in Paradise
STOP BY OUR COFFEE SHOP CENTRALLY LOCATED IN GARDINER, MT
There's nothing like taking the first sip of coffee that's made just the way you like it. That warmth can give you the energy you need to tackle your day. If you have a craving that only coffee can satisfy, make Beehive Espresso your go-to coffee shop located in Gardiner, MT.
Beehive Espresso is a family owned and operated coffee shop. Along with tasty hot and iced coffees, we also offer smoothies and meal replacement drinks.
Since we're a local coffee shop, we work hard to ensure every customer is satisfied with our service. Visit our kiosk today to make us your favorite coffee spot located in Gardiner, MT.
380 US HWY 89 SOUTH
Gardiner, MT 59030
Phone: (406) 548-4869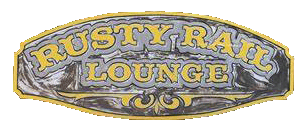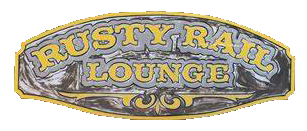 The Rusty Rail Lounge & Casino is part of the Best Western complex in Gardiner. Relax in front of one of our 5 TVs (2 big screens) with a specialty cocktail, a mini-micro brew, or choose from our fine selection of wines or imported beers. The casino offers a variety of video poker and keno machines. Enjoy our pool table in the back room. Happy hour is from 5:30pm to 7:00pm nightly. Open daily at 4:00am.
901 Scott St (US Highway 89)
Gardiner, MT 59030
Phone: (406) 848-7336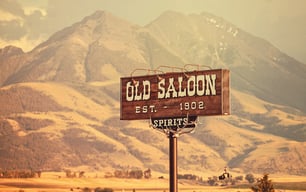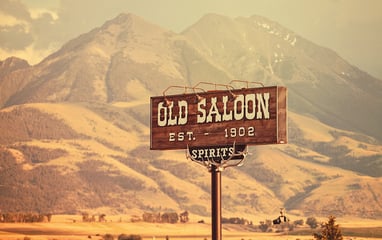 Established in 1902, the Old Saloon has served many Paradise Valley locals as well as visitors from every corner of the world. It has survived over an entire century by offering a comfortable Montana experience where the guests are greeted by genuine and kind staff willing to engage locals and outsiders alike. From the hard-working ranch hand to the tourist passing through to Yellowstone, to the celebrity living in their Paradise Valley hideaway, The Old Saloon still attracts all types of guests who intermingle seamlessly. The Old Saloon was built on great stories and is an iconic fixture in Montana and the Paradise Valley. . It is one of a kind and the last of a dying breed. Come experience Montana how it used to be and make your own story!
210 Railroad Lane
Emigrant, MT 59027
Phone: (406) 333-4482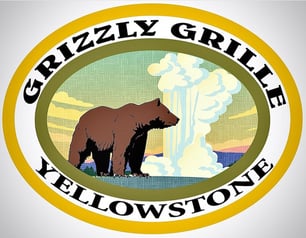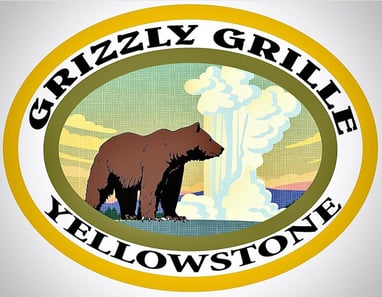 Grizzly Grille is a locally owned business, located on the north end of town. We have outdoor seating and a great deck overlooking Yellowstone National Park, the best views in town. Plus, we deliver! Our menu includes a build your own section with tacos, wraps, rice bowls and noodle bowls. We will also have house specialties with Asian fusion BBQ influence!
1018 Scott St. (US Highway 89)
Gardiner, MT 59030
Phone: (406) 404-9278
Yellowstone Pizza Company


Full-service restaurant featuring Italian style pizza, wings, salads, beer & wine.
210 Park Street
Gardiner, MT 59030
Phone: (406) 848-9991


303 2nd Street South
Gardiner, MT 59030
Phone: (406) 848-9175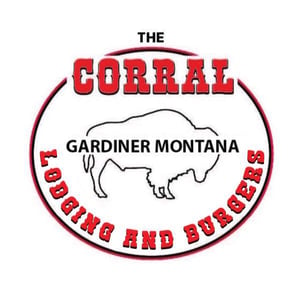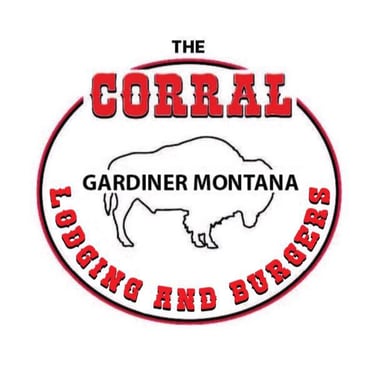 The Corral—home for a rare species of hamburger! This small burger place is the longest standing business in Gardiner. Bacon cheeseburgers and buffalo burgers are our specialty. The Corral is part of the Western Sustainability Exchange program "Farm to Restaurant" & tries to provide the best burgers by finding the best products—local, sustainable, and organic.
711 Scott Street (US Highway 89)
Gardiner, MT 59030
Phone: (406) 848-7627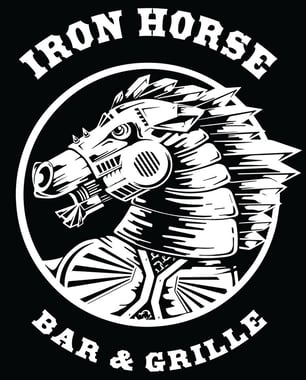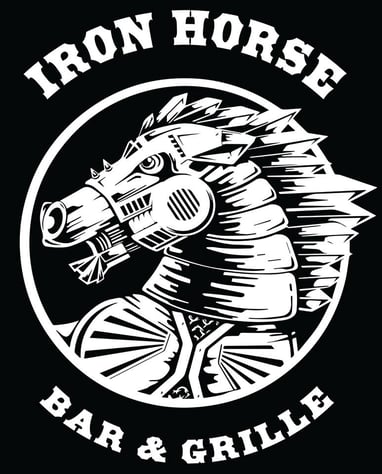 After a long day in Yellowstone, treat yourself to the only Gardiner bar & restaurant overlooking the Yellowstone River, with indoor and deck seating and a wide selection of appetizers, entrees and cold beverages sure to offer something for everyone!
We offer a variety of menu choices from Elk Tacos and Buffalo Burgers to house smoked pulled pork and ribs, Rocky Mountain Trout, and vegetarian lasagna. A full bar complete with local craft beers and unique specialty cocktails will quench your summer thirst while you enjoy scenic views of Yellowstone National Park's first entrance town.
212 Spring Street
Gardiner, MT 59030
Phone: (406) 848-7888
Yellowstone Mine Restaurant & Rusty Rail Lounge


At the Yellowstone Mine, relax by the fire in the Gold Mine atmosphere. Featuring Fine dining: Steaks, Prime Rib, Seafood, Pasta, Salads, wonderful appetizers, specialty desserts, and a full bar. Also serving all your favorites for breakfast at reasonable prices, featuring a "Breakfast Buffet" in the summer months.
Directly next to the Yellowstone Mine Restaurant is the Rusty Rail Lounge & Casino. Relax in front of one of our 5 TVs with one of our specialty cocktails, micro brews or fine selection of wine and imported beers. The casino offers a variety of video poker and keno machines.
901 Scott St. W. (US Highway 89)
Gardiner, MT 59030
Phone: (406) 848-7336
Chico Hot Springs - Dining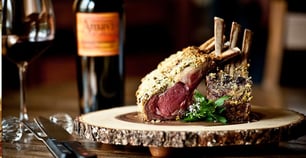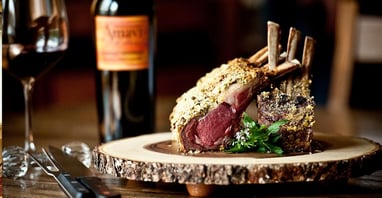 The Historic Dining Room has offered fine dining with a Western flair since the 1970s and consistently receives praise as one of the best meals in Montana. But we also offer family-friendly options in the Poolside Grille and in the traditional Saloon. Private dinners are an option for groups from 6 to 16 people in the elegant Tasting Room or the Wine Cellar). Whether it's casual or ceremonious, our menus offer, fresh, homemade meals that are satisfying and delicious!
163 Chico Road
Pray, Montana, 59065
Phone: (406) 333-4933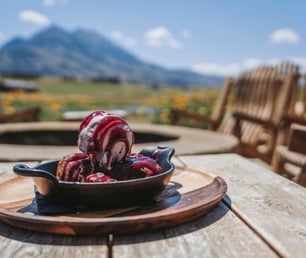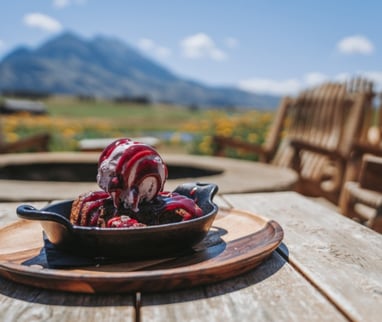 Sage Lodge includes the promise of great dining. Eating well is part of the experience, and we offer rustic, bold, and honest flavors in our Montana restaurants. From The Grill at Sage Lodge to The Fireside Room, you will find the highest quality dining in a comfortable, casual atmosphere. You'll also have the chance to experience house-cured meats from local ranches, garden-fresh produce from nearby farms, and of course plenty of Northwest craft beers and spirits.
55 SAGE LODGE DRIVE
PRAY, MT 59065
RESERVATIONS: (855) 400-0505
Tumbleweed Bookstore and Café


Breakfast, lunch and dinner made with healthy, homemade ingredients. Gluten-free and vegetarian options available.
Large selection of non-fiction, fiction, and area books. Selection of unique gifts.
501 Scott Street (US Highway 89)
Gardiner, MT 59030
PHONE: (406) 848-2225