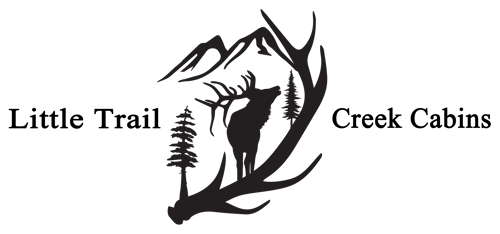 Little Trail Creek Cabins Frequently Asked Questions
Here are the answers to some of the most common questions we are asked about Little Trail Creek Cabins located in Gardiner, Montana. If you have questions not answered here, please call or email us and we will be happy to answer your questions.
How far are you from Yellowstone National Park?
We are located just 4 miles to the North of Gardiner, Montana which is the North Entrance to Yellowstone National Park. The Albright Visitor Center in Mammoth Hot Springs is about 10 miles away and the Old Faithful Visitor and Education Center in Old Faithful is about 60 miles away.
Where can we get supplies?
Gardiner does have a small market, but we recommend stopping in a larger town/city prior to driving to the Gardiner area. Livingston has an Albertsons grocery store. Bozeman has Winco, Costco, Super Walmart, Target, Sportsmans Warehouse and much more.
Do we need to bring our own bedding or towels?
Our cabins all have ample bedding and towels as well as shampoo, conditioner and soaps provided based on the maximum number of guests the room should accommodate. If you find that you should need more, please contact us and we will be happy to accommodate you.
Items that we have available for use or rent:
We have a pack-n-play, stroller, wheelchair & 4 wheeled walker for use. We have binoculars & a spotting scope available to rent, please inquire for more details. We also have a shaved ice machine, fondu set, popcorn popper, games, toys, bats & balls, volleyball set, horseshoes, trampoline, picnic set, local books, puzzles and much more!
Do you allow pets?
We do allow pets on our properties, please inquire for further details.
Pets are only allowed in the cabins unattended if in a crate. We have crates available to use. No pets are allowed on the furniture. We do have sheets to cover furniture with. There will be a $50-$100 fee for pet hair on furniture. Thanks for your understanding and cooperation.
Do the cabins have a kitchen?
All Little Trail Creek Cabins contain kitchen equipment.
The Sage, Lookout & Aspen cabins have full modern kitchens for you to use during your stay with us. They include: coffee makers, microwaves, stove, refrigerator as well as a full assortment of cooking utensils (pots, pans, baking dishes, silverware, etc). All of our cabins have propane grills as well. Pantry items in the Lookout and Aspens cabins include: Sugar, salt, pepper many more spices and we also have an assortment of condiments in the refrigerators such as ketchup, mustard and BBQ sauce.
The Homestead Cabin does not have modern/traditional kitchen amenities due to it being rustic. Refrigerator: There is a mesh bag to keep a few items or drinks cool in the creek and there is a large cooler next to the grill. There is a wood stove for heat and heating water inside and a propane grill outside for cooking. Dishes and utensils all are provided for your use. Pantry items in the Homestead Cabin include: sugar, salt, pepper, popcorn & oil. There are two 5 gal buckets available to store food inside the cabin. There is a Bathhouse with hot water.
Where do I check-in and/or check-out?
We do not maintain a "front office" at Little Trail Creek Cabins. We will instruct you as how to access your cabin prior to your arrival. For check-out, simply vacate the cabin leaving it as clean as you found it. Our representative will inspect the cabin after your check out time to ensure it was left in a reasonable and acceptable condition.
If something goes wrong, or breaks what do I do?
If there is an actual emergency or threat to someone's health or safety, please call 911 immediately, then contact us to notify us. You can reach us by phone at: (406) 223-8595 or (406) 223-1899 or email us at: reservations@yellowstonevacationcabins.com